Services
Looking for that symbiotic relationship?
You're a business leader and now you are stepping into the world of web and mobile technology. You are expanding your existing business into new areas or leveraging today's tools to help you grow and spread your vision, but have no or very little experience with technology.
You are missing that dual profile, business and technical partner. That special someone who can really get you, your vision, what you do & how you do it. Someone that can act as a natural extension of yourself and a bridge to your CTO and / or tech team to get things done swiftly and efficiently. And that will find any potential systemic growth hacks along the way. Someone with imagination, creativity, resourcefulness and strong analytical skills that can help you technically kickstart your vision into existence with ease.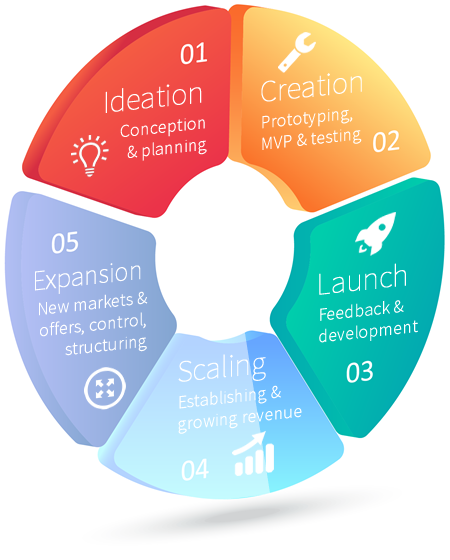 With you when it matters most
The early stages of a startup or new project are the most fragile and vulnerable. They are also the riskiest from an investor point of view. This is where having a veteran partner can help you navigate these waters with much more ease and efficiency.
I am best positioned to help you accelerate on both a technical and business level in the first 3 phases and in the beginning of phase 4: from Ideation to early Scaling. This would typically correspond to companies with up to 20-25 employees. Time and efficiency gained during these early stages tend to compound over time.
Questions? Want to see if we're a good fit?
Let's start with a free 1-hour Skype or Zoom call to explore your vision and project together, and see if I can be of service to you. Click below to contact me and book a call.